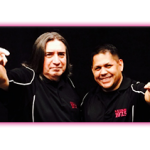 The Jonny Ramirez in the Morning Show
Jonny Ramírez is a true San Antonio treasure and one of the city's most beloved celebrities. Whether he's on-air, or online conversing with friends" and "followers," Jonny is just a call, click or tweet away from his loyal fans.
Jonny's Thoughts

Almost as automatic as the wild flowers blooming in the Hill Country, it never fails that I answer the phone during this time of year and the question is almost the same: "Hey Jonny, how do you

So it's rodeo time again and folks in Houston and San Antonio are left scratching their heads wondering why the music of first-, second- and third-generation Mexican Americans born in Texas (Tejanos) is not being represented. Simple
On KXTN

Let's Fiesta San Antonio!! You know what time of the year it is!! Oyster Bake 2015 kicks off TONIGHT!!