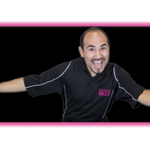 Baby J grew up in the radio business – he is second generation radio biz. Baby J has worked from the ground-up both on-air and behind the scenes. He has worked as a programming assistant,
promotions tech, audio production assistant & now a radio personality. Baby J enjoys entertaining audiences with his energy, charisma and passion. Baby J supports various charities such as Ronald
McDonald House, Children's Hospital of San Antonio, Susan G. Komen, ALS Association and Habitat For Humanity. Baby J is also involved in many 5K run/walks and Marches across the city. Baby J enjoys sports (WWE Fanatic), video games & movies.
What's Trending

How is this even possible?! Collin Burns solved the Rubik's Cube in a world record time 5.25 seconds?! You have to see it to believe it!